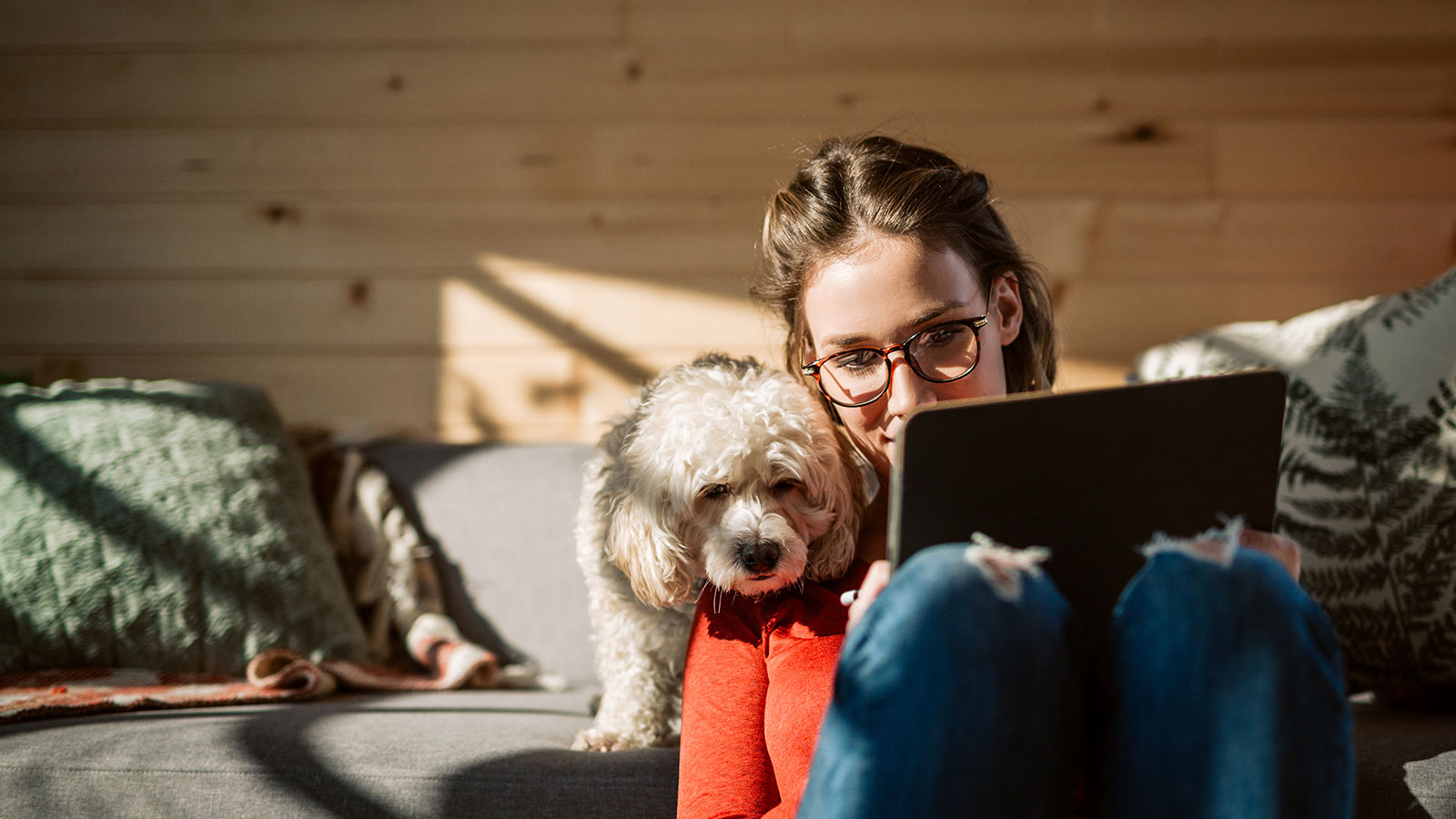 We know how much you care about your pets. Following the regulations below will help us ensure that the furry members of your family arrive safely. Here is some important information about shipping pets with WestJet Cargo. 

---
We highly recommend that you don't feed your adult dog or cat within 6 hours of departure (4 hours before for puppies and kittens).
Weaned puppies or kittens younger than eight weeks will not be accepted due to the possibility of dehydration during air transportation.
A veterinary document must be provided for kittens and puppies under 12 weeks old, detailing the animals age and overall health condition. 
Tranquilization of cats and dogs is not recommended, however, if the shipper plans on sedating the animal, a notice from the administering veterinarian must be presented at the time of tender stating the animal is in good health and able to travel by air, along with a record of the sedation.
All dogs and cats (puppies and kittens included) shipped as cargo must be booked and approved in advance by WestJet Cargo.
Female dogs and cats experiencing estrus (in heat) or are pregnant will not be accepted for travel.
Strong breed kennels (CR 82) are required for applicable dogs over the age of 6 months. Bookings must be made through a registered IPATA agent.
CR 82 kennels that appear to be homemade will be inspected to ensure they comply with guidance outlined in the IATA Live Animal Regulations.
Strong breed dogs under the age of 6 months can be booked directly with WestJet Cargo. The shipper must provide proof of age for strong breed dogs under the age of 6 months for them to be accepted in a standard kennel (CR1). Veterinary documentation must be used as proof of age.
Strong breeds (6 months or older) such as those listed below, will require CR 82 kennels. 
 
American Bulldog
American Staffordshire Terrier
Anatolian Shepherd
Bandog
Cane Corso
Caucasian Shepherd
Doberman
Dogo Argentino
Fila Brasileiro
Mastiff (all breeds)
Pitbull (all breeds)
Presa Canario
Rottweiler
Staffordshire Bull Terrier
Wolf Dog Hybrids
WestJet does not restrict the use of collars on dogs or cats being shipped as they will typically include contact/registration information specific to the animal. 

Snub nosed (Brachycephalic) breeds of cats and dogs listed below can travel as cargo with WestJet. However, guests should be aware of the increased health risk associated with these breeds travelling by air. Snub nosed (Brachycephalic) breeds of cat and dog must undergo a veterinary examination prior to travel and be tendered with a document which states the animal is fit to travel by air.

Brachycephalic Dog Breeds
Affenpinscher
Brasileiro
Brussels Griffon
Boston Terrier
Boxer
Bulldogs (All Breeds)
Bullmastiff
Cane Corso
Cavalier King Charles Spaniel
Chihuahua (Apple Faced)
Chow Chow
Dogue de Bordeaux
English Toy Spaniel
Japanese Chin
King Charles Spaniel
Lhasa Apso
Neapolitan Mastiff
Pekingese
Pug
Shar-pei
Shih Tzu
Staffordshire Bull Terrier
Tibetan Spaniel

Brachycephalic Cat Breeds
British Shorthair
Burmese
Exotic Shorthair
Himalayan
Persian
Selkirk Rex
Scottish Fold
Dogs and cats (puppies and kittens included) cannot be held overnight at our cargo facilities. Comfort stops may be available at some airports, please speak to our Customer Service team for more information. 
Whenever possible, WestJet Cargo plans to ship dogs and cats (puppies and kittens included) on a non-stop or direct flight, however, should routings involving multiple connections be required, additional fees may apply.

The Shipper is responsible to pay for planned or unplanned well-being stops, along with potential overnight kenneling fees that may be required during transit 

WestJet limits the number of kennels per flight.

Combinations of animal species is not permitted (i.e., dogs/cats). 

A maximum of two animals of comparable size up to 14 kg each, which are used to cohabitation, may be shipped in the same container. Animals over that weight must travel individually.

Cargo shipments are not permitted in the cabin. 

Dogs and cats (puppies and kittens included) must be tendered to the warehouse prior to published cut off for the intended flight. Visit our tender and retrieval time webpage.

WestJet assumes no responsibility for the care or feeding of Animals while in transit, so it is important that you prepare your dog or cat for its journey. 
---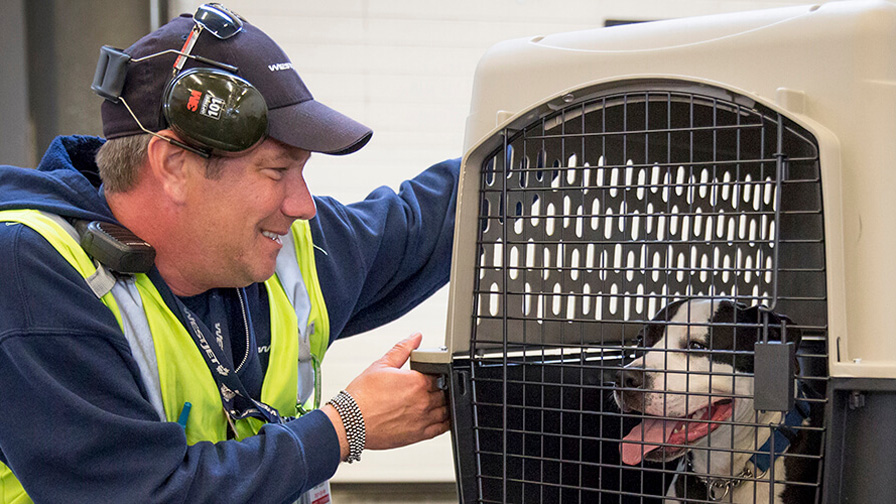 Dogs and cats (puppies and kittens included) transported as cargo must be carried in containers that meet the following safety requirements.
The maximum allowable size of a kennel (LxWxH) is 100x68x76 cm (40x27x30 in.). The maximum allowable weight of a kennel (including the animal) is 72.5 kg (160 lb.).

Kennels specific to strong breed dogs (CR 82) are exempt from the maximum allowable weight of a kennel (including the animal) as indicated above and will require advance arrangements. 
Kennels must be made of a material approved in the IATA Live Animal Regulations. Kennels must be made of fibreglass, metal or rigid plastic. Kennels with wire roofs are not allowed. Kennels with plastic doors are not allowed.

For non-strong breed animals, the container door must be constructed of welded or cast metal of sufficient gauge or thickness so as to preclude the animal from bending or distorting the door. Doors made of plastic material are not allowed. 

Door hinges and locking pins must extend beyond the horizontal extrusions above and below the door opening by at least 1.6 cm (5/8").

If a kennel has wheels, they must be removed or rendered inoperable. 

The container must allow the animal(s) to stand up, turn around, and to lie in natural position.
Maximum allowable kittens or puppies in one kennel is (2) two. 

No water or food containers are allowed in the kennel, unless it is in a non-spill container, firmly attached to the kennel. Feeding and watering should only occur for emergencies. Dogs and cats do not normally require additional feeding during the 12 hours following the time of tender. Water must be provided if the total journey time exceeds 12 hours.

Floor must be solid, leak-proof and covered with a layer of absorbent non-consumable bedding material, for example blankets or absorbent pads are acceptable. 

Kennels must have solid roofs. Kennel roofs may have ventilation holes over the whole surface provided they do not reduce the integrity or the strength of the roof itself. Kennels with wire, "trap-door" roofs are not permitted.

For dogs and cats, a familiar article in the container helps to keep the pet at ease in transit. One toy, or similar article is permitted in the container with the animal. 
Pit-bull (all breeds) are restricted in Ontario. 

WestJet Cargo will ship brachycephalic breeds subject to veterinary health checks. Seasonal heat restrictions will be put in place fromJuly 1, 2022 to September 15, 2022 for brachycephalic breeds. WestJet Cargo does not accept brachycephalic breeds for transport anywhere when the outside ground temperature is 29.5 degrees C or higher at the departure city, the destination city, or any connection point in between.
---
Shipping to and from the United States and international destinations 
Currently available – WestJet Cargo can accept, handle and deliver pets in kennels on flights with origins and destinations in Canada and the United States only.
Currently unavailable – Services for the acceptance, handling and delivery of pets in kennels to and from destinations outside of Canada and the United States.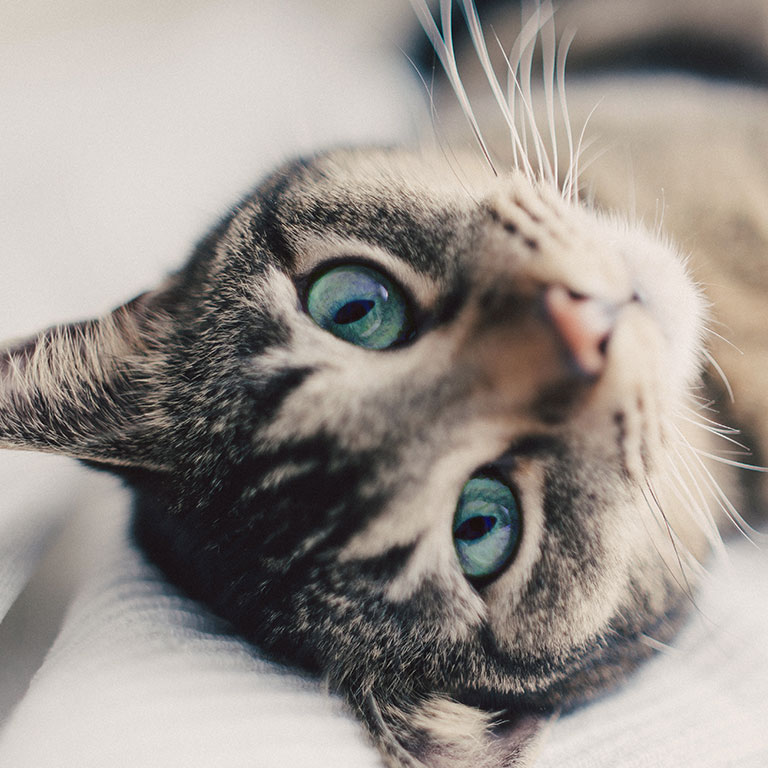 The Canadian Food Inspection Agency (CFIA) is implementing a new measure to protect Canadians and their pets, and to reduce the risk of introducing dog rabies (rabies caused by canine-variant viruses) into Canada.
As of September 28, 2022, World Rabies Day, commercial dogs from countries at high-risk for dog rabies will no longer be permitted entry into Canada. Commercial dogs can include, but are not limited to dogs for resale, adoption, fostering, breeding, show or exhibition, research, and other purposes.
Please refer to the CFIA Website for a full list of countries that are considered high-risk for dog rabies.
The following restrictions are applicable for pets travelling in checked baggage due to limited room during the heavy holiday travel periods. 
| | | | |
| --- | --- | --- | --- |
| Dates | WestJet Encore Q400  | WestJet 737 aircraft | WestJet 787 aircraft  |
| December 15-17 inclusive | 1  | 2 | 0  |
| December 18-January 4 inclusive | 0 | 0 | 0  |
| January 5-7 inclusive | 1  | 2 | 0 |
---
Book your pet in cargo for a flight departing in four days with the help of our customer service agents, or 10 days with our self-serve online request a quote form. 
Know where we ship pets
Check your destination or our flight schedule
Have your pet's information ready

Type of animal

Breed

Age

Weight

Name

Bring the right kennel
Check our guidelines
Gather required documents

Certificate of health from a veterinarian (required for puppies and kittens under 12 weeks, pets following recent surgeries, brachycephalic breeds of all ages and sedated animals)

Shipper's certificate for kennels form (we will send this to you once your booking is complete)

Review our rates
Kennel rates
Be informed
Review our pet policies and FAQs
A valid credit card is required to confirm your booking. The shipment cost is charged at the time of booking and any changes or cancellations up to 48 hours are at a cost of $20 and within 48 hours of shipment date are non-refundable.
| Size | Dimensions (in) | Dimensions (cm) |
| --- | --- | --- |
| Miniature | 20 in. x 12 in. x 12 in. | 50 cm x 30 cm x 30 cm |
| Small | 21 in. x 15 in. x 15 in. | 53 cm x 38 cm x 38 cm |
| Junior | 27 in. x 20 in. x 19 in. | 69 cm x 50 cm x 48 cm |
| Medium | 32 in. x 22 in. x 23 in. | 81 cm x 56 cm x 59 cm |
| Large | 36 in. x 24 in. x 24 in. | 91 cm x 61 cm x 61 cm |
| Extra large | 40 in. x 27 in. x 30 in. | 101 cm x 68 cm x 76 cm |
Shipments likely to damage the carrier's equipment or other shipments.
Shipments tendered with instructions to collect on delivery (C.O.D.). 
Shipments subject to prior arrangements
Shipments requiring special attention, protection, or care en route.
Shipments containing pieces of unusual shape or size.* 
Shipments (other than seafood) containing any single piece weighing more than 136 kilograms or 300 pounds.
Shipments, or any part thereof, whose overall dimensions (length + width + height) exceed a total of 228 centimetres or 90 inches.
*If you have any doubts about whether your shipment is fit to fly, please email or call us at 1-866-952-2746.
WestJet reserves the right to place carriage embargoes on products and calendar dates. Stations will be notified of new or pending embargoes by bulletins from WestJet Cargo. Likewise, any embargoes that are lifted without a previously advised end date will also be communicated by WestJet Cargo. Any uncertainties must be clarified with WestJet Cargo prior to acceptance of the goods for carriage.
Domestic pets are not accepted as cargo shipments over the holiday season. This year, our domestic pet embargo will take place from December 18 to January 4 (inclusive).
Get your goods where they need to go with WestJet Cargo. Contact us for a quote or to book a shipment.